Horses in training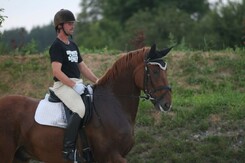 We also accept horses of clients who wish to have them in traning with us. In the monthly fees 15.000,-Crowns we offer:
Turn out and bring in.
Wash down.
Riding lesson at least three times a week.
Lunging.
Rugging up.
Plaiting before shows.
Clipping. Late night check.
Every day tack cleaning.
Washing of the light rugs and nummnahs.
Attendence of vet and farrier and also proven regular worming programme which we also provide are not in the monthly fees included!