Riding school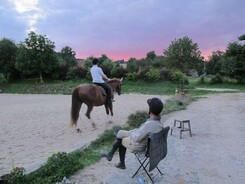 PRICE LIST
Individual lesson 1000,- Crowns,
Shared lesson 900,- Crowns,
Lesson on own horse 700,- Crowns
Monthly fee for a stabled horse 15 000,- Crowns
For details of prices of lessons please call us on tel. 737 308 531 or 605 311 080.
Instructors Filip Minařík a Kateřina Bártová
The MINARIK-DRESSAGE Riding Stables focuses on training horses and riders. We offer lessons on a good quality, experienced "schoolmaster" horses under The British Horse Society qualified instructor and Grand Prix dressage rider Filip Minařík and his wife Kateřina Bártová. Students learn the principles of dressage, correct stable management and respect to the horse.
At MINARIK-DRESSAGE you will find an inspiring atmosphere and friendly, sympathetic environment. Training is also possible with your own horse. Position of the working student or a volunteer is also available. Best for the serious riders who understand the need for effort and length of time to learn. Sorry, we do not provide hacking out in the countryside.
We are pupils of the dressage trainer David Pincus, a former member of the Spanish Riding School. Filip originally started out as a racing jockey, and it was for the racing experience that we first went to Ireland, where we were engaged for a year in W.P. Mullins' steeplechase yard as riders. The traditional equestrian culture in the British Isles inspired us to deeper studies of riding and horse management and so we studied BHS courses in London and then spent several years as students under the top dressage teachers. Filip initiated the founding of the first BHS centre in the Czech Republic in Všetice, where he then spent two years in the position of yard manager before deciding to open his own stables in Strážovice. Beside teaching practice we do also concentrate on our own competition career in dressage. Our top horses are currently participating at Prix St. George, Intermediate and Grand Prix.